As releases go our most recent one is hit and miss stability wise. While we fixed numerous annoyances, we also seem to have introduced some new problems with channel editing and importing of sequences. I'm sure we'll get all of these things cleaned up real soon.
For those running 0.5, you'll notice the feature set for 1.0 is complete. Yes there is always more we can add (and we will in 1.1 and 1.2) but the line has to be drawn somewhere or we would never get to 1.0! As a result, all of our work is now entirely focused on bug fixes. My wife has cautioned me not to give out more overly optimistic deliverable dates so the official word is 1 to 1.5 months. I really don't think it will take that long to clean up what is left... so 1.0 is very near.
For those who didn't know, Aurora had a booth at the TCL Workshop in Texas last week. Things went really well and we generated quite a lot of interest in Aurora from all sorts of attendees. Below is a picture of out booth at TCLW: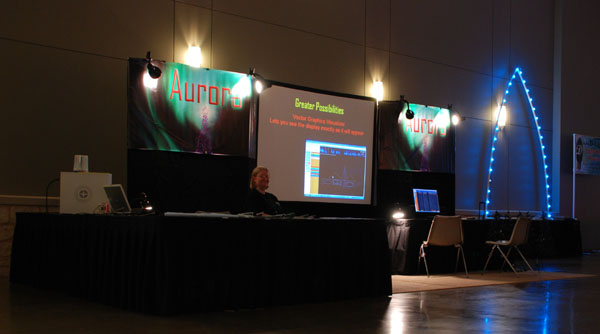 The arch next door to Aurora in the picture above is D-Light showing off Firefly. Firefly is destined to be one of the best new products for 2008. The best part... Aurora is going to fully support its extended commands. I can't say what we have up our sleeve just yet, but lets just say that lighting is being taken to the next level!
I brought back several notes of feature requests that will find their way into future versions of Aurora.
Rumor time: Very very preliminary.... Animated Lighting support may be coming to a future version of Aurora! I can't say for certain yet but I think we might be able to pull it off.